Wow, we've had quite a few trends hit us at NSFW Celebs, but celebrity bikini season is in full swing. Daily shots of celeb goods are pouring in faster than we can report them!

We had so many to choose from, as we've already reported Nicollette Sheridan's numerous bikini pics from her vacation, and other celebs have provided some great shots, but our choice was made up earlier today when we discovered that Kelly Brook took things to another level by stripping off her top and totally showing her tits! Apparently once again (like many other celebs) thinking no paparazzi was around to catch her topless beach venture on film, gotta love the paparazzi. At one point Kelly just about looks directly at the camera, maybe she wasn't bothered by it.

Coincidentally, these pics were taken at Saint Barthelemy Island, the same place Nicollette Sheridan has been flaunting her goods, hmm, maybe there is something to this, maybe all celebs should visit this beach! The air seems to make them want to wear less clothing...to all celebs reading this, book your vacation to Saint Barthelemy Island now!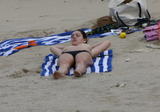 And for More even more Kelly, check out Kelly Brook Nude at MrSkin.com!