Everyone recalls when Lisa Bonet broke free of the Cosby Show family goodness, and decided to go get naked in some movies to show her "free spirit" or whatever she was trying to accomplish. And some of you may even remember Lenny Kravitz making women wet themselves by walking around naked in one of his music videos. Well when the 2 got together to produce their daughter Zoe Kravitz, we should've known another free spirit was on the way, and she's starting early! Zoe has recently popped up on on the scene, pretty much out of nowhere, kind of like "OH, wow, that's Lisa Bonet and Lenny Kravitz's daughter?" She's done a couple of movies, and was seen in one of Jay Z's latest music videos, so now that her name and face are out there, its time to start showing her boobs (some mighty fine breasts indeed,) and let her fans see her nipples right from the get go, as she shows in this see through, shirt/bra, thing she has on here: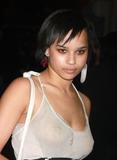 For more, check out the Zoe Kravitz bio on MrSkin.com!

To check out Zoe's mom naked, check out the Lisa Bonet bio, nudity review, pics, and clips at MrSkin.com!