Hot Fergie Ass Pics from New Music Video Filming
We tend to laugh every time we see people talking about how Fergie is ugly, or how they'd put a bag over Fergie's face if they were with her.  We laugh because those people would drop to their knees in the presence of Fergie's hotness if they had the chance.  Every time one of the big talkers talk down on Fergie, she seems to bust out some insanely hot pics that drop jaws.
Such is the case with these pics from the video shoot of the new Black Eyed Peas video for "Imma Be."  The entire "The E.N.D." album from the Black Eyed Peas has a futuristic theme, and this video is no different except for the fact that Fergie completely shows off her ass in some very high, almost thong like futuristic booty shorts of some sort.
The shorts are sexy, but Fergie's ass is just eye poppingly hot.  It's well known that Fergie works out and keeps one of the hottest bodies in Hollywood, but now is really one of the times when we definitely get to SEE it.  After everyone has seen the ass that Fergie is rockin, she definitely has to be a contender for THE best ass in Hollywood.  Hopefully the video will provide even more and better quality views of her ass, but for now, here are the pics that will have you thinking about Fergie's ass all day too: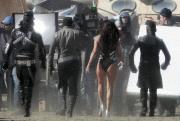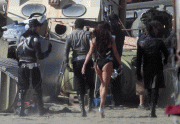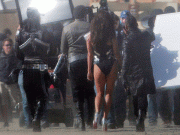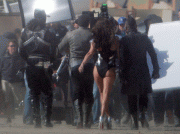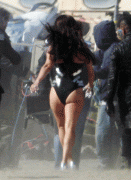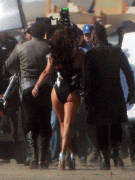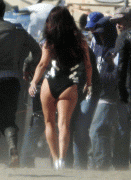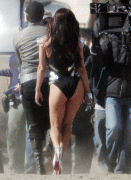 Related Content:
Fergie in a Bikini at the Beach Pics
Fergie's Big Boobs in Blender
Fergie bio, nudity review, pics and clips at MrSkin.com