It's been WAY too long since we've had a leaked pic scandal to report, so it's only fitting that we have THE biggest leaked pics to report on in our site's history. That's right, private pics of the one and only Jessica Alba have leaked and we can now all say we have seen her boobs. These pics look to have been taken by Jessica herself, and how they ended up on our computer screen, who knows. The one detail is that these pics look to have been taken when Jessica was pregnant, or just after having her baby. Hours of comparisons and investigating have been done to verify that these pics are indeed legit, and there is pretty much no doubt that these are indeed Jessica Alba showing her boobs.
It's another case of big celebrities taking private naked pics and never thinking they would ever get out, but many times they do. Jessica Alba was pretty much the queen of guaranteeing that she will never get naked in a movie, never pose nude in a magazine, and would take any necessary measure to ensure this. Over the past 10 years Jessica has used body doubles, CGI nudity, camera angles that make sure we don't see any good parts etc. It looked like the most we would ever see of Jessica would come from someone jumping a fence and sneaking some
pregnant bikini pics
of her, or speculating over her
showing her ass in a nude scene
that doesn't show her face with her ass, leading to more body double speculation.
Well now we have definite pics of Jessica Alba topless, and being all sexy for presumably her husband/boyfriend/baby's daddy...whatever he is, but now we all join in on the fun. Now the questions shift from the pics being legit, to asking if these pics really were somehow taken from her or if they were leaked on purpose to generate some much needed buzz. And now the moment you have all been waiting for, the complete collection of leaked Jessica Alba pics: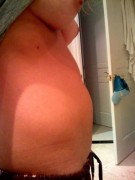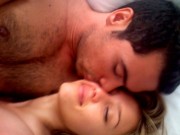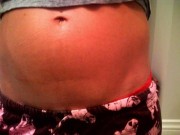 Related Content: