Rihanna Poses Nude in Lui Magazine
Well the day we all knew would come is finally here – after years of teases, peaks, and slips, Rihanna has finally posed nude in a magazine.
For years we would have guessed Playboy would be the magazine Rihanna took it all off for, but for those of us who aren't fans of Playboy's airbrushed pics that the magazine has become notorious for, it's the French magazine "Lui" that features these awesome naked photos that deliver our first look at Rihanna's nude ass and completely topless boobs!
We've mentioned it before, but Rihanna has given us years worth of drool-worthy moments and somehow has done so without getting totally naked; just a couple of months ago she wore a completely see through shirt at a fashion show which gave us a full view of her boobs and nipples.  It's been moments such as the see through shirt that have kept us hanging on for more and more from Rihanna, but finally the time has come to show it all and the results give us everything we could have asked for and more.
A couple of weeks back, paparazzi pics leaked from this photoshoot and it became apparent right away that the pics would definitely be something special.  In those paparazzi photos, we saw a bottomless Rihanna bent over with her ass up – a dream scenario for millions Rihanna fans.  That little preview turns out to only the beginning as not only is the now infamous bent over ass shot in this set but also various other great ass shots, and completely topless up close tit shots as well – the likes of which we never thought we would see from Rihanna.
As a matter of fact the cover itself sets the tone for this Rihanna nude shoot as she is topless and showing both boobs – only in France I guess!  We really can't say anymore about this so we'll let the pics say the rest.  Today is the day you can finally spend hours staring at Rihanna's bare boobs and ass, after this all that's left is a sex tape….OH we can hope!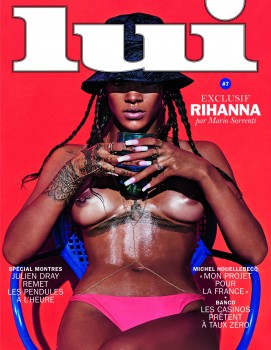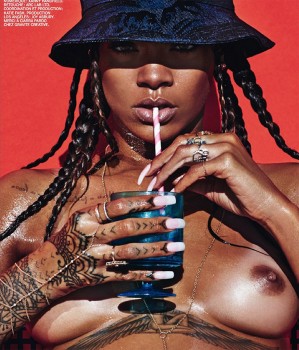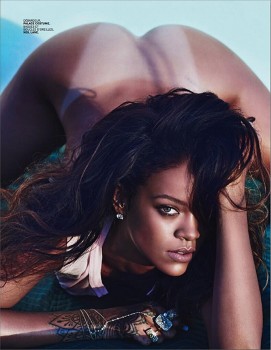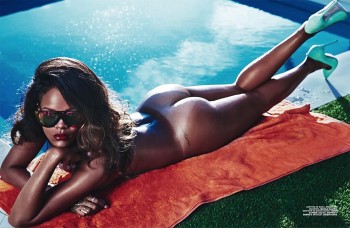 More:
Rihanna nudes at MrSkin.com