New Britney Spears Hairy Ass Upskirt (Literally)
It's been awhile since Britney Spears has given us one of her famous upskirts; the upskirts that are famous because they always feature something extra – whether it be no panties, barely there panties that show her vagina anyway, or in this case, HAIR, lots of…..HAIR.
While out and about in L.A. recently, the paparazzi did their thing and caught Britney getting out of her car, getting the usual upskirt shot, and she proved once again that she's learned to wear panties. Next, she went up some stairs and we got some upskirt ass shots – now let me stop and remind you that the last time we had very similar pics, I reported the pics here on NSFW Celebs, and we learned that Britney Spears had nasty hairy legs; THIS time, the legs seem better, but as we move a little higher, we see that Britney has a hairy ass! Wtf, this is not something we see on women, especially celebrity women. Unsightly hair on her ass, ass crack, and her panties got lost in there somewhere under all the hair we guess.
Maybe some of you guys could work around it since it's Britney, but we'd think a celeb like her could have her ass bush taken care of! It figures that just as Britney is working out, dropping the flab, maybe getting back to half the shape she once was in, she has to remind us that she can gross us out at any given time.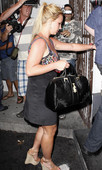 Related Content:
Britney Spears Bares Boobs in See Through Shirt
Britney Spears Hairy Leg Upskirt
Britney Spears bio, nudity review, pics and clips at MrSkin.com