Heidi Klum Goes Topless on a Balcony for Her MILF War Entry
The celebrity bikini MILF war of 2017 is raging on and today we have the tiniest bikini yet – as in, bikini bottoms only! Heidi Klum must have heard about the hot moms like Fergie and Hilary Duff that have been creating a buzz by showing major skin in tiny bikinis, since she proceeded to just whip her top off on a balcony in Miami to show them all how being a hot MILF should be done!
Amazingly, of the above mentioned hot moms, Heidi Klum is actually the oldest and has the most kids with four! The fact that she still has a tight body and isn't afraid to let her boobs be seen at age 43 sets an example we wish more celebs would follow.
Of course Heidi is no strangers to getting naked – being a well-known model she has stripped off for numerous shoots over time (and years ago we even posted about a book that featured Heidi Klum nude and covered in chocolate) but still there is something special about a celebrity that is willing to be topless in public, a sure sign that she is proud of her tits.
Unlike the time Rihanna changed clothes in front of an open window, Heidi makes the choice to be fully out on her balcony with her top off – as earlier she is seen in a full bikini but decides to take the top off (presumably for a better tan….who can argue?) There are definitely lessons for other celebs to be learned here – A. if everyone has already seen your boobs, why bother hiding them anymore? And B. women should have the right to have their top off just like men do, so why not?
So here is Heidi Klum showing off her hot MILF body while topless on a balcony in Miami. We're looking forward to seeing what celeb will try to match or even top this example of how to be a hot MILF in public: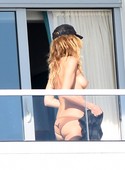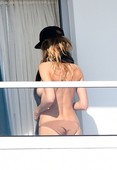 SPONSORED CONTENT: