You Thought Kim Kardashian's Ass was Big Before? You Haven't Seen Anything Yet
It is no secret that Kim Kardashian is famous for her big (OK huge) ass; we saw it in her infamous sex tape from 10 years ago, and she's flaunted it numerous times ever since. Over time Kim's ass has taken on some changes since Kim has had kids and been on various diets, and many feel that Kim got butt implants or some other procedure to keep her signature ass even when she loses weight.  Well now it seems that Kim is just letting it all go as these new pics show Kim's ass growth is well beyond any size it was before.
Kim and Kourtney Kardashian are apparently currently on vacation (from reality TV taping?) with some friends and apparently they have fun by wearing very little clothing.  First they hit the beach in bikinis, and that was the first glance we got at Kim's bigger-than-ever ass:
Nothing TOO crazy, it seemed that Kim's choice of bikini let us know that the infamous Kim ass was bigger, but not too jaw-dropping – THEN came the jaw-dropping.
Today it apparently became time for the girls to get more comfortable and rock thongs, and yes, that meant Kim too.  Kim Kardashian in a thong in 2017 is quite a sight to see.  Her ass was big before, but there's no denying it's HUGE now and Kim apparently doesn't mind that fact.  Any fan of huge asses will most likely be a fan of what Kim Kardashian's has become, but there are others that are going to think it's gone too far size-wise. Take a look below and form your own opinions: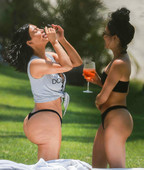 Kim has even claimed on social media that her friends are "fat shaming" her, but then posted pics of her stuffing her face, so apparently she's proud of what she's got and wants to flaunt it.  We kind of feel the same, no one has to look if they don't want to, but we would rather a celeb take it off and show it off rather than cover up.  We're looking forward to seeing what this vacation provides next – rumors of naked Kourtney cartwheels have popped up on Kim's Twitter (we can only hope pics exist!)