Bella Thorne and Jen Selter Work Out in Bikinis on Instagram
2021 continues to deliver the NSFW goods from all directions. Today it's even coming to us from Instagram as one of our controversial favorites Bella Thorne and fitness model Jen Selter let us watch them work out together…oh and they're in bikinis.
We all know Bella became a favorite by paving the way for celebs to join and get naked on OnlyFans, but if you're not familiar with Jen Selter, she's basically a very well-known fitness model – or Instagram ass queen as we like to call it.
So when a fitness model and Bella Thorne decide to work out together, of course, we want to watch. When they're in bikinis? We feel like we should be paying to watch but somehow they decided to give us this gift for free on Instagram. Actually, when Jen Selter posted a bit of "behind the scenes" from their workout session on her Instagram, we were hoping they were filming OnlyFans content because, well…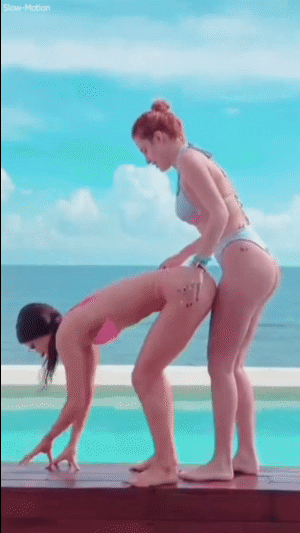 So yes, like everyone else, after viewing this video we have found our full fitness motivation for the year. But let's be honest, knowing that Bella Thorne is quite the businesswoman, she HAD to be thinking that adding some Jen Selter content would likely double her OnlyFans income at least! After all, we're not even sure if the term "bikinis" can apply here or if straight using "thong" would be more fitting since ass coverage is at a minimum here. Also, the term "working out" could be substituted with "doing yoga" or just "sticking their asses out" as well.
So if you're looking for fitness inspiration or simply enjoy hot women bent over in bikinis, you will likely find joy in watching Bella Thorne and Jen Selter's bikini workout: