Carmen Electra Nude in Maxim Mexico!?
OK, so it's time to complain. No, the fact that we're posting pics of Carmen Electra's boobs doesn't make us mad, but it's the fact that it's in Maxim Mexico! Why is it that Maxim Mexico can post topless pics of celebs while the U.S. Maxim just posts pics that make you wish the celebs in them were naked?
Just in the past year, Maxim U.S. has featured covers with Hilary Duff, Stacy Keibler, Megan Fox, Anna Kournikova, and many other celebs that we'd gladly look at naked or at least topless, but NO, not allowed here, WHY. Doesn't Maxim realize that they could sell double or triple the magazines by actually featuring nudity and nudity by hot celebs, not just random models. And it's not just Maxim, we posted last year the totally hot pics from Italian Vogue that featured Eva Mendes showing her boobs in multiple pics, and she's arguably a bigger Hollywood name than Carmen Electra, yet she's still getting naked, but again, it's in a foreign version of a magazine.
But beyond this rant, hey it's Carmen Electra, another hot celeb who just doesn't seem to age. Yesterday we talked about how good Cindy Crawford still looks naked even though she was covered in soap (yes, our magazines get soap,) but today we get Carmen Electra letting her tits be seen totally topless along with some extra shots in a see through bra for good measure.
Of course we've seen Carmen naked in Playboy quite a few times and even in a few movies, but we'll keep looking as long as she keeps stripping. Carmen will most likely stay in the Cindy Crawford category, meaning well into her 40's we'll still want to see her get naked in magazines and movies, and anywhere else. So most of this post was taken up ranting, and we're sure our readers will agree with our stance, so now we'll just move on to the hot naked Carmen Electra pics from Maxim MEXICO: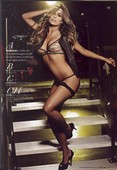 Related Content:
Carmen Electra Gets Off on the Sybian on Howard Stern Show