WWE Diva Mickie James Nude Pics From Her Porn Past!
Once again our readers have spoken, and they love the wrestling divas! Therefore we've got some more great rare nakedness from another WWE Diva, and this time it's surprisingly Mickie James! We say surprising, because many of you may not realize that before entering WWE and while wrestling on the independent wrestling scene as "Alexis Laree," Mickey also did some nude and pretty pornographic photoshoots with Legshow Magazine!
We recently posted about the Shelly Martinez Nude Fetish Porn video and while it looks to feature some freaky stuff from Shelly, Mickey's pics not only featured some foot fetish and other fetish type pics, but also full spread open legs, spread open ass, and finger penetrating for a hardcore (country) photoshoot!
These pics really capture Mickie from just about every angle you can possibly imagine, as she obviously held nothing back and let EVERYthing be seen! Mickie is not the type of character on WWE TV that you'd expect this from, but we're always glad to find that a celebrity is a true freak deep down inside! One of the shoots even features a wrestling theme where Mickey "beats" some guy dressed like a wrestler and strips him naked…who knew that one day Mickie James would be wrestling at WrestleManias and would eventually become a WWE Women's Champion!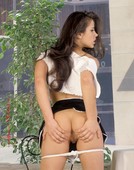 Also, check out
WWE Diva Candice Michelle's Lesbian Softcore Porn
!