Nude not in the way we normally mean around here but more nude in Jennifer Aniston terms, which means technically nude but covering the money shots.

The only way we've seen Jennifer really naked is if she shows a brief 2 second shot like she did in "The Good Girl," where she showed her boobs for a second if you look real close and brighten things just right. For GQ she has some hot poses and still looks good, which will only keep the hope alive for all the Aniston fans that she'll do a real nude scene or show some real nudity in a magazine someday. In actuality, she probably just posed nude (but covered) on the cover of GQ so everyone would buy the magazine, and read up on her latest trashing of Angelina Jolie.

Check out these naked Jennifer Aniston pics from the new GQ, and just because we know you want to see more of what Jen is hiding, we've provide a bonus, Jennifer Aniston getting banged hard in her sex scene from "The Good Girl," and remember to look close and get a some good shots of her boobs.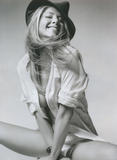 Related Content: