Scout Willis Walks Around Topless in New York for the Best Protest Ever!
Censorship – it's something that this site will obviously never support and something we've often spoke out against in our posts and on social media.  Just recently it seems like the anti-censorship movement has gotten a little more mainstream, due in large part to a movement that we totally support, aptly named "Free the Nipple."
Basically the "Free the Nipple" movement has questioned why it's OK for men to go topless anytime they please, but for women it's either looked down upon or even illegal in some states.  Now if a given state said "no genitals in public," we'd understand….equal rule for everyone; but because women have boobs they can't show them openly even if they want to but men can….nipples are nipples.  Something wrong there.
Well it seems things really got serious it seems when Rihanna was banned from Instagram for posing her sizzling topless pics from Lui magazine.  Now of course the pics are hot and a huge deal because Rihanna is showing her boobs without covering them at all for the first time, but in reality she isn't doing anything sexual – it's just her topless boobs in plain view as she poses in the pics; but apparently Instagram is against any sort of nudity, artistic or not, and Rihanna was removed from the platform.  Again, this causes issue, because a man could've done the exact same post and it would've been perfectly fine….just something wrong there.
Well finally it's taken someone with some name value to take a stand against these actions and raise awareness, and it turned to be the daughter of Bruce Willis and Demi Moore – Scout Willis.  Scout made a statement by posting these topless photos of herself walking around New York on Twitter, pointing out that doing so was perfectly legal in New York, but not on social media…..statement made!  Now imagine if more celebrities supported this movement and made similar statements?  Scout went the extra mile by going topless out in public, but we've suggested in the past that celebs even post topless pics on social media to support the cause….tell us people wouldn't take notice!
So Rihanna obviously supports the movement after being a victim of this type of discrimination, and Scout Willis has started a protest movement against it…now imagine if more celebs followed her lead and made this issue a widely known thing?  Imagine if someone with famous boobs like Katy Perry or Kate Upton joined…the movement would gain momentum without a doubt.  You can support the movement on Twitter @FreeTheNipple, meanwhile enjoy the site of Scout Willis walking around topless and free in New York below: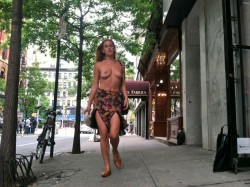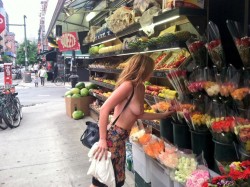 Related:
More Scout Willis nudity at
MrSkin.com